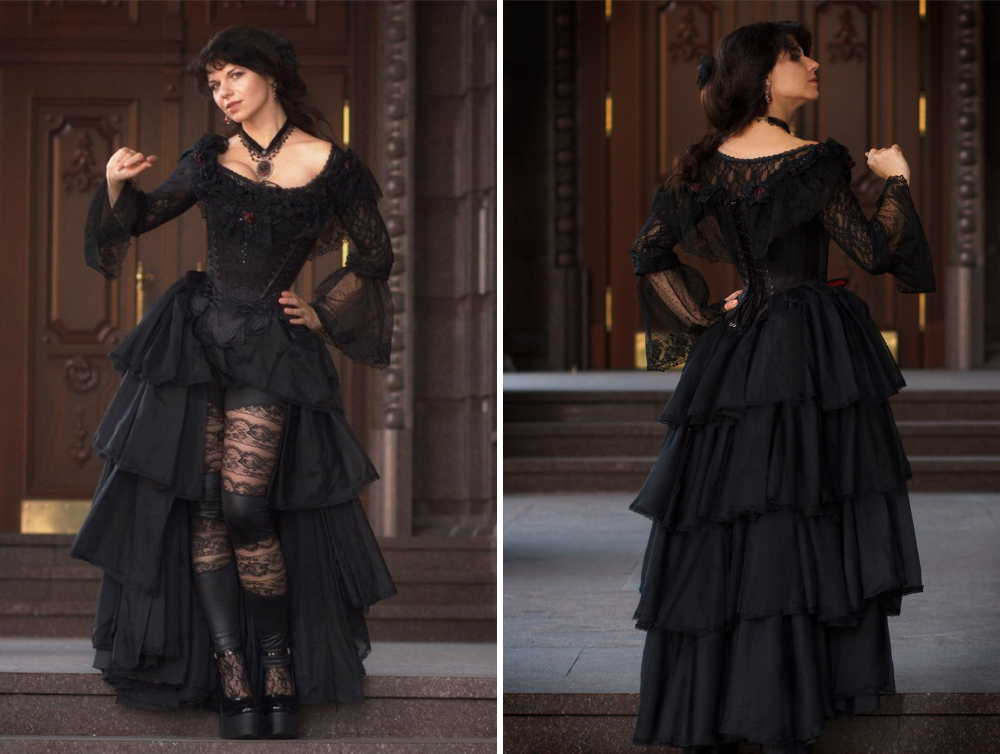 When most people hear gothic, they picture girls dressed in black dresses with tight corsets and puffy skirts. Indeed, the roots of this style go back to the Middle Ages, in the era of knights and witches, but over time it has undergone significant changes.
Gothic style can be found in everything: sculpture, architecture, painting, and clothing. Wherever we encounter it, it always has unique and recognizable properties.
A brief excursion into the history of Gothic
Although initially, the concept of "Goth" is associated with the Germanic tribes, it has nothing to do with Gothic fashion. The Gothic style originated after the rise of English punk music in the 70s and 80s. Musical groups Joy Division, The Banshees, and The Cure laid the foundations of goth fashion.
The ideology that beckons modern Goths is associated with the afterlife, cemeteries, and vampires. This gloomy theme, along with the achievement of the highest stage of development through pain and suffering, represents the Gothic style. Today, gothic dresses are found in the collections of many stylish designers, such as Alexander McQueen, and Rick Owens.
Things you can't imagine Gothic without
Even though the Gothic style arose long ago, people still actively express themselves with its help. A gothic outfit can be simple or detailed, but most likely, it contains the following elements:
Oversized sleeves and ruffles that sometimes resemble bat wings. Such elements create both a creepy and mystical image.
Corsets often complement stylish tops and mini dresses.
Dark skirts can become a bright detail of a gothic look, especially if you choose a checkered model.
Sheer fabrics will make the look more sexy; many gothic ladies prefer stylized tights.
Black lace: it is not uncommon to see a lot of black lace in gothic dresses, as it brings a Victorian touch to any outfit.
Today, the Gothic style is successfully combined with other modern fashion trends, creating something new. For example, the pastel goth style is becoming increasingly popular, full of pastels, sequins, and Japanese manga-inspired clothing.
Tips for creating a Gothic look
Perhaps you have long wanted to dress like a real goth but do not know where to start. We have put together a few tips for you on how to look stylish:
Buy black basics: buy more dresses, trousers, and skirts in dark colors to become the image's main elements.
Try to find attractive graphic prints: look for clothes featuring the moon, stars, skulls, bones, pentagrams, and more.
Choose corsets: they can become part of a festive or everyday outfit. Corsets come in a wide range of styles and sizes.
Wear a hat: such an accessory will add mystery to the image and help hide lousy hair and protect it from the cold.
As you already understand, the Gothic image is interesting and non-trivial. It suits courageous people who are not afraid to challenge society. If you're drawn to the gothic style but aren't ready to go, add a few pieces, such as rings, necklaces, or earrings.
by Natalie WEDEX
If you liked the article, do not forget to share it with your friends. Follow us on Google News too, click on the star and choose us from your favorites.
For forums sites go to Forum.BuradaBiliyorum.Com
If you want to read more News articles, you can visit our General category.